Elevate Your Online Presence with Our Expert Website Design Services
Unleashing the Artistry of Our Website Design Services
Odexp is a Professional website development company in Bangladesh provides a wide array of website design services for SMEs as well as large enterprises. Our team of proficient website developers & experienced digital marketing specialists use latest technologies and proven strategies to create user engaging business websites and promote them to enhance customer reach. Hire website designers from us to establish a strong online presence that will pave your path toward success.
Design Without Doubt: Our Unwavering Guarantee for Website Development & 30 Days Money Back Guarantee.
Business Website Designing Price
From professional business to enterprise, we've got you covered!
BASIC PLAN
Standard Website
BUSINESS PLAN
Corporate Website
ELITE PLAN
eCommerce Website
A professional and clean website is essential for any business to succeed in the online realm. The look and feel of your website is paramount in determining whether someone stays on it or leaves. Our web design services focus on the nature of your business and what you need for a fruitful online presence to ultimately push revenues further up.
Our custom web design services help to convey your intended business message clearly and with an impact. Our web design work is clean and has integrated CMS or content management systems for easy editing and handling of content. All our websites are developed as mobile responsive to ensure seamless viewing experience across devices. Avail our responsive web design services to build a distinct website and significantly increase your business potential online.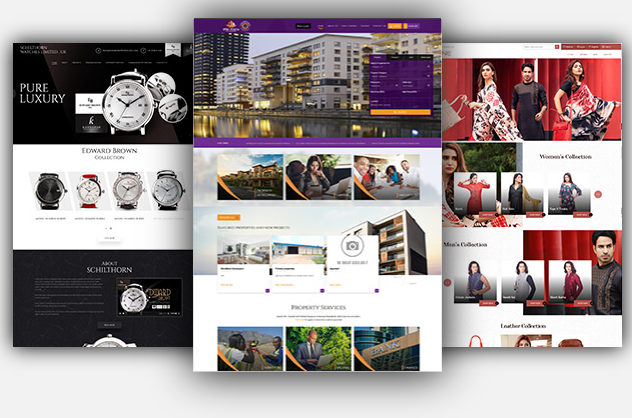 As a premium website design company, we ensure the best quality web design service at reasonable prices to help your business succeed online. Ranging from an informational website for a small business or a feature-rich eCommerce store to enterprise level custom web application development, our website development team is adept at building and enhancing your online identity. Leverage our world-class web development services to catalyze the process of lead conversions for your business.
Frontend Development
Backend Development
API Development & Integration
Database
Version Control
Frontend Development

Version Control
Version control system helps the development team to manage any change to the source code over time. It keeps track of all the modifications done to a code in a specific database. In case of any unintended error, the developers can turn to the previous version and fix the issues. Since an entire development team works on a project, it's better to organize the codes for the apps in the file tree and keep a track of the changes.
This accelerates the process of a glitch-free app development. We prefer Bitbucket and GitHub to support our source control needs and maintain a smooth workflow.
Backend Development
API Development & Integration
Database
Version Control
Whether you're interested in working with us or for us, we're always happy to chat.
For Inquiries: +880 1730 71 26 21